One of the most common mistakes facility managers make when developing an energy management strategy is that they don't tackle the process from an ongoing, holistic perspective. Instead, many facility managers view energy management as singular project — something that can be put into place to drive positive results without ongoing maintenance and optimization.
Now more than ever, it's vital for facility managers to view energy management as an ongoing initiative that requires constant analysis and tweaking to deliver the most positive return on their energy investment.
The best way to visualize a holistic energy management strategy is to picture a wheel with five key phases that include: planning, installation, operation, optimization and renewal. These five phases create the life cycle of services wheel shown below.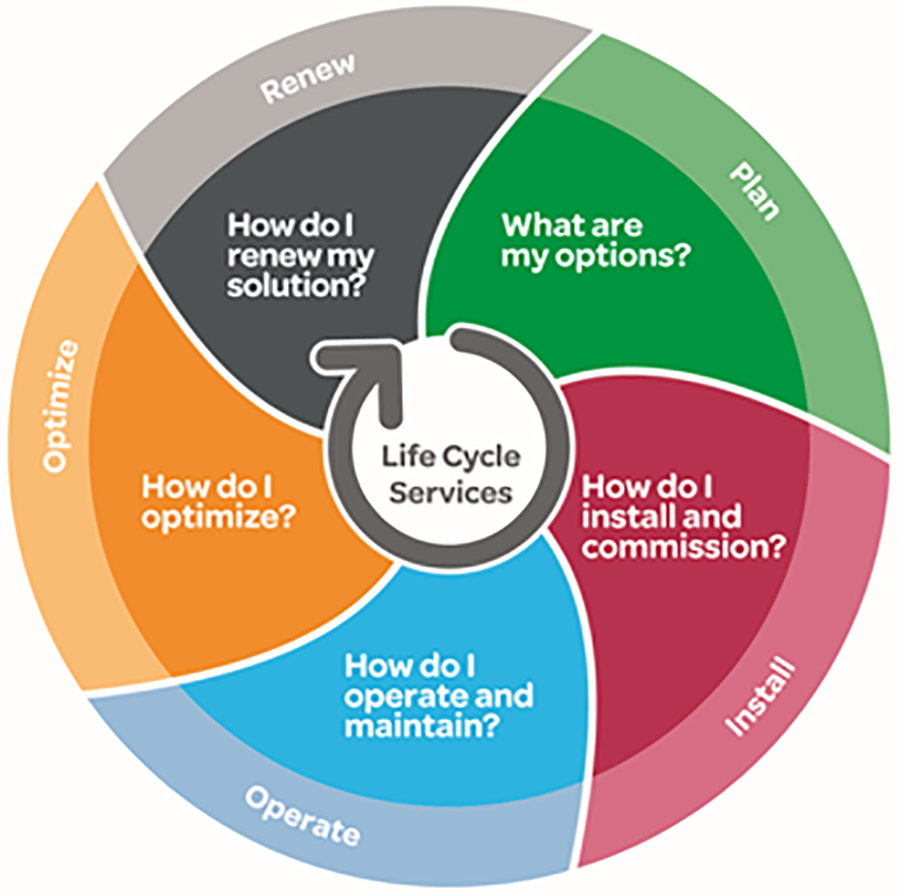 Plan: What are my options?
It is important for a facility manager to create a committee of people within the organization that can come together with different perspectives and ideas for ways to develop a comprehensive energy strategy that fits the organization's objectives. For example, in a hospital environment, this committee should consist of nurses, C-suite executives, facilities staff and finance.
Install: How do I install and commission?
After a plan has been put in place, it is important for facility managers and other executives to negotiate the best terms with each supplier so they can maximize their investment. With prices in constant flux, the cost of energy often impacts a facility's profits — positively or negatively — depending on the choices that are made during this phase.
Operate: How do I operate and maintain?
In order to operate and maintain energy management systems while controlling costs, facility managers must be able to accurately measure their energy and resource consumption.
Optimize: How do I optimize?
In order for an energy management strategy to be effective, it is important for facility managers to execute on targeted efficiency projects with demonstrable ROI. Optimizing energy and resource consumption helps organizations reduce costs, improve processes and meet sustainability goals.
Renew: How do I renew my solution?
Finally, facility managers must analyze the performance of their energy strategy through robust reporting capabilities. Being able to report progress is a key to the success of the energy management strategy.
By following these five phases and constantly looking for ways to improve, facility managers will be able to more successfully plan, install and maintain their comprehensive energy management strategy.
By: Robin Laub, Schneider Electric | May 11, 2015
Info From: http://www.ifma.org/publications/blog-fmj/article/blog-fmj/2015/05/11/five-steps-for-developing-a-successful-energy-management-strategy